Explore: Connor Wood and Jonathan Morgan's Research Study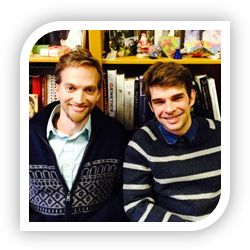 The aim of this project is to study aspects of religious social life and cognition. The study is open to everyone. If you have been specifically recruited to participate in this study, you will need your participant ID number.
Below are the surveys and questionnaires belonging to this research study. If you have agreed to participate, your goal should be to work your way through all of them. We'll hold your scores and your personalized feedback for you, so you can come back and see your graphs at any time.
Here is the procedure to follow.
Step 1: Register on this site in order to access the surveys. Remember your login details so that you can see your results later. If you are already registered, just log in.
Step 2: Enroll for this particular research study. This is important: if you are an invited participant, you have a participant ID# and this is the place to enter it.
Steps 3-8: Work through the surveys in order. Answer all items in each survey with proper care and frankness because this is important for validity of results.
Afterwards, explore your feedback. Each survey will give you feedback to explain your results. You may not be able to spend time thinking about that information while you are taking the various surveys. But you can log in again at any time to retrieve your feedback and learn about yourself by reading through it.
Take other surveys on this site at any time. All of the other surveys on ExploringMyReligion.org are available to you at any time from the Explore page.
Remember that your results are confidential and that we carefully protect your privacy.
You are currently a "guest" user which means that you can take our surveys, but you will not be able to return to this site and see your scores at later times after this session. If you would like to save your scores to view later, please register. If you already have an ExploringMyReligion.org account, please login and we will merge your current data with your previous data.
Step
Study
Date Taken
My Results
Link
About This Study
Step 1
Register on this Site
Please Login
or Register
Registration is necessary for us to record your survey data and for you to see feedback on the studies you take.
Step 2
Enroll for this Study
No Results Yet
Please Register to Take Study
Fill out this form to enroll for the study. Invited participants should make sure they have their participant ID# before beginning the enrollment procedure.
Step 3
Triad Task
No Results Yet
Please Register to Take Study
The way you tend to think about the world can influence your religious beliefs. This survey measures whether you tend to think more holistically or analytically. That is, do you tend to see things as parts of interrelated wholes, or as representatives of abstract categories?
Step 4
Social Dynamics and Interests Questionnaire
No Results Yet
Please Register to Take Study
What's more important to you – your local community or the wider world? How important and reliable are personal relationships in your life? Answer these questions to learn about your personal social and community attitudes, which can help predict religious orientation.
Step 5
Rational vs Experiential Cognitive Style Inventory
No Results Yet
Please Register to Take Study
Your preferred style of problem-solving can influence your religious beliefs in surprising ways. This study measures whether you prefer to use certain styles, such as intuitive or analytical styles, more than others to tackle problems.
Step 6
Reasoning Styles Instrument
No Results Yet
Please Register to Take Study
Take this instrument to learn about your personal reasoning style. Your reasoning style can influence religious and ideological attitudes.
Step 7
Local-Cosmopolitan Measure
No Results Yet
Please Register to Take Study
Do you identify more with your own community or country, or with the world at large? Your responses to these questions will help us tell you about your own relationship to identity and place.
Step 8
Revised Cognitive Reasoning Task
No Results Yet
Please Register to Take Study
Cognitive style has been shown to influence people's religious attitudes and beliefs. Answer these simple questions to learn about your own personal cognitive style.
Step 9
Multidimensional Religious Ideology Survey
No Results Yet
Please Register to Take Study
How do you score on a variety of religious dimensions of religious belief and practice? This survey gives you a multidimensional profile of your liberalism and/or conservatism.
Note that this site requires that your browser accept cookies to work properly. If you experience technical difficulties, please contact us.